Fire Emblem Warriors: Three Hopes - The Loop
Play Sound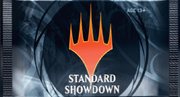 Standard Showdown was a Magic: The Gathering pilot program, aimed at growing local Standard communities and providing a reliable weekly setting for this format. The tournament was played in local communities after a new block release. Events must be Ranked (i.e. include at least three rounds, and at least eight players).
History
[
]
Standard Showdown was introduced in November 2016 after the release of Kaladesh.[1] The first Standard Showdowns were scheduled as 1 event per week, on eight consecutive weekends (excluding the week of Game Day). Starting with Ixalan, Game Day was abandoned and Standard Showdown would culminate in the Store Championship.[2]
There was no Standard Showdown for Core Set 2020 or further sets.
Prize boosters
[
]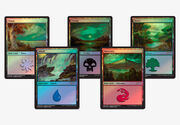 Wizards of the Coast announced that they would provide special promotional prize boosters to participating stores. Initially, each prize booster contained three cards. One was a premium card from a currently legal Standard set in any any rarity (which was, in low probability, replaced by a Masterpiece Series' card) The other two cards were non-premium cards that were either a rare or a mythic rare, also from a set currently legal in Standard.
For Amonkhet, a fourth card was added: a full-art land.[3] Masterpiece Series were no longer included in prize packs.
For Hour of Devastation yet another card was added. There were now two premium foil cards: one common or uncommon and one rare or mythic rare.[4]
Starting with Ixalan, the Standard Showdown booster prizes came with a foil promo land in each booster. Those lands would feature new or highly desirable art from Magic 's history.[2]
Contents
[
]
Note
[
]
Double-faced cards and cards from Masterpiece Series do not appear as a part of prize booster packs (with the exception of Kaladesh's prize packs, which Masterpiece Series' cards might appear).
Misprint
[
]
Every foil Captain's Claws from Amonkhet standard showdown packs had Goldnight Castigator's foil pattern on it.[6][7]
Notes and references
[
]