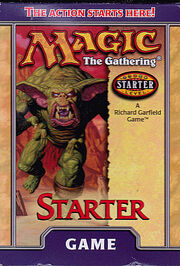 The Starter game box is a 2-Player Starter Set that was part of the Starter release in 1999. The two decks are designed to play well against each other and are sorted to provide a sample game if you don't shuffle them. The rules take beginning players through their first game step-by-step; after that, new players know the basic rules and the decks can be shuffled.
Contents
An enhanced version called Starter Gift Box exists, which also includes an instructional video and an oversized Starter Thorn Elemental card.
Game box exclusive cards
Edit
The following cards weren't available in regular Starter boosters, but did appear in game box (and also in the Starter samplers).