Strixhaven: School of Mages
| | |
| --- | --- |
| | This article documents an upcoming release. |
Strixhaven: School of Mages
Strixhaven: School of Mages, often shortened as Strixhaven, is the 87th Magic expansion. It is set at the Strixhaven school on the plane of Arcavios.[3][4][5] It is scheduled to be released on April 23, 2021.
The design of this set is Magic's take on the magical school genre.[6] Each one of the featured colleges represents one of Magic's enemy color combinations, with their own character and mechanics.[7] Cards associated with the different colleges feature separate watermarked insignias. This set contains 275 regular cards () and includes randomly inserted premium versions of all cards.
This set introduced the term mana value as a wording change for converted mana cost. Also, "shuffle your library" is shortened to shuffle.
Strixhaven is the most elite University in the Multiverse. It features five colleges, which battle it out with their own takes on magic: Silverquill (


), Prismari (


), Witherbloom (


), Lorehold (


), and Quandrix (


).[8][7] Learn from the best professors and explore Strixhaven's huge library!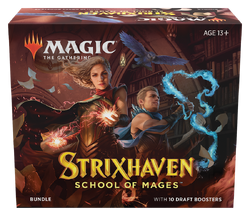 Strixhaven: School of Mages is sold in regular 16-card Draft Boosters (one card being a marketing card). A Mystical Archive card appears as a bonus card in each Draft Booster. These Mystical Archive cards don't replace another card of the same rarity in a pack. So you can get multiple rare cards in a draft booster.
In addition, the product line includes five bi-colored Theme Boosters, Collector Boosters (including three Mystical Archive cards), Set Boosters (with a bonus Mystical Archive card), the Strixhaven: School of Mages bundle and five Commander decks.[9]
The packaging of Strixhaven: School of Mages features key art of Will and Rowan Kenrith. The Draft Boosters feature artwork from TBA, TBA, TBA, TBA and TBA. The Theme Boosters feature art from TBA (


), TBA (


), TBA (


), TBA (


), and TBA (


). The Collector Boosters feature art of TBA and the Set Boosters feature art of TBA.
Mystical Archive is a separate set of cards associated with Strixhaven: School of Mages. It is similar to the Masterpiece Series but the cards appear more frequently in the boosters of the main set. In Mystical Archive, Wizards of the Coasts has reprinted 63 of the most famous instants and sorceries of all time in specially designed showcase frames and at all rarities. Strixhaven Draft and Set Boosters contain one Mystical Archive card, and Collector Boosters have at least three. These will only be legal in formats that they are already legal in. They are not part of the Standard environment. However, the cards may be used in Limited events.
3/2 Spirit creature for Lorehold Command
In lieu of the abandoned block model, R&D has found a new way to tie together the three non-core premier sets in a single Magic "year" (aka the fall, winter, and spring sets—using northern hemisphere seasons): they share a common mechanic. For Zendikar Rising, Kaldheim and Strixhaven that is modal double-faced cards.[10][11][12]
Strixhaven is designed around five enemy-color pairs, which despite the many years of Magic has not been done before as a large expansion - Apocalypse, the other enemy color set, was drafted as a counterpart at the tail end of Invasion block, and likewise with Eventide and the Shadowmoor block. Unlike the Ravnican guilds, the Strixhaven colleges aren't built around the similarities of the two colors, but rather around their conflict.[13]
Strixhaven: School of Mages has at least one cycle.
TBA
The set comes with five Commander decks. This is essentially Commander 2021 aligning with Strixhaven: School of Mages.
Arcavios sets

Strixhaven: School of Mages

Arcavios storyline

Characters

Locations

Affiliations
Magic: The Gathering
sets
M15 border sets
Expansions

Strixhaven: School of Mages
Special sets
Special series

Supplemental sets

Starter sets

Un sets

Commemorative sets