Tempest is the twelfth Magic expansion and was released in October 1997 as a standalone set, and as the first part of the Tempest block. The set continues the Weatherlight Saga on the stormy plane of Rath.
Set details
[
]
The rarity break down of the 350 black-bordered set is 110 commons, 110 uncommons, 110 rares, and 20 basic lands. Tempest's expansion symbol is a cloud with a lightning bolt, to symbolize Rath's turbulent sky and Tempest's tumultuous plot.[6] This set was the first after Antiquities that featured Richard Garfield in active role as designer.
Marketing
[
]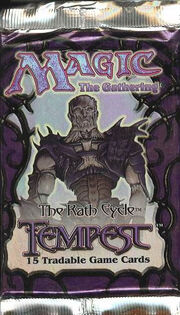 Tempest was the last set that was marketed as a standalone set, and the first that was advertized as a expert-level set in the new rating system for the game sets. WotC had decided not to target the large expansions toward new players; the simplified Portal cards and those in the base set were for them. Tempest was sold not only in the tradional 60-card starter decks and 15-card boosters but also in a new form: preconstructed theme decks. Using only Tempest cards, the design team built four theme decks, marketed as a ready-to-play introduction to the set. The accompanying booklet explained the play strategy for each deck and suggested ways to strengthen them by swapping in cards from other sets. Another difference from the previous large expansions came in the rulebook. Anyone buying Tempest cards could safely be assumed to have either a Fifth Edition rulebook or a friend who could teach them the game. So instead of reprinting all the rules in the Tempest booklet, WotC only printed a brief overview and a few pages describing the features that were new in the set. The rest of the booklet, some fifty pages, profiled the main characters and summarized the Tempest story. Each Tempest booster contained 15 cards: 11 commons, 3 uncommons, and 1 rare. The packs featured artwork from Auratog, Volrath's Curse and Commander Greven il-Vec. Tempest was the first set to feature a special prerelease card: Dirtcowl Wurm. The card was not foil; it was a normal version of the card with the word "Prerelease" and the Magic "M" stamped in gold leaf on the type line.
The Official Guide to Tempest is a complete companion card set, written by Beth Moursund. This guide gives tips for playing in a Tempest-only environment and how to best use Tempest cards with Fifth Edition. There are full-color reproductions of all of the Tempest cards, along with information on the rarity of the cards and current errata.
Storyline
[
]
The set takes place on the stormy plane of Rath, where Gerrard and the heroes of the Skyship Weatherlight set out to find Volrath's stronghold.[7][8]
Mechanics and themes
[
]
The block mechanics Buyback and Shadow were introduced in this set.[9][10][11] White, blue and black colors had creatures with shadow (white Soltari, blue Thalakos, black Dauthi), while green and red have multiple methods of blocking creatures with shadow. The abilities associated with Slivers, Licids, Spikes and Flowstone were also introduced in this set. Every color had a sliver and licid. There was one green spike, that served as a preview of sorts of the rest of the Spikes yet to appear in the block. Flowstones are red creatures.
Creature types
[
]
The following creature types are introduced in this expansion: Crab, Licid, Shapeshifter, Sliver, Spike.
The following creature types are used in this expansion but also appear in previous sets: Angel, Ape, Atog, Beast, Bird, Cat, Cleric, Dragon, Drake, Druid, Dryad, Elemental, Elephant, Elf, Faerie, Giant, Goblin, Hound, Illusion, Imp, Insect, Knight, Lizard, Merfolk, Minion, Ooze, Pegasus, Rat, Rhino, Salamander, Serpent, Skeleton, Soldier, Spider, Spirit, Treefolk, Thrull, Turtle, Vampire, Wall, Wizard, Wurm.
Cycles
[
]
Tempest has eleven cycles:
Cycle name
Circles of protection
Circle of Protection: White
Circle of Protection: Blue
Circle of Protection: Black
Circle of Protection: Red
Circle of Protection: Green
Each of these common white enchantments has a mana cost of and the ability to prevent the all damage from a source of a given color for . This cycle was reprinted from the Core Set. All Circles had similar art by

Harold McNeill

.[12]
Hoser double cycle
Light of Day
Warmth
Chill
Insight
Perish
Dread of Night
Havoc
Boil
Choke
Reap
Each color has two uncommon cards that injuriously affect its enemy colors.
Licids
Quickening Licid
Stinging Licid
Leeching Licid
Enraging Licid
Nurturing Licid
Each of these common 1/1 Licid creatures has a mana cost of M and the ability to turn itself into an aura enchantment attaching itself to a creature or back to its normal state.
Medallions
Pearl Medallion
Sapphire Medallion
Jet Medallion
Ruby Medallion
Emerald Medallion
Each of these rare artifacts has a mana cost of and reduce the cost of spells of a given color by . Some of them have residual images from a dirty press.[13]
Common slivers
Talon Sliver
Winged Sliver
Clot Sliver
Heart Sliver
Muscle Sliver
Each of these common 1/1 Sliver creatures costs M and has an ability that it grants to all Slivers, including itself.
Uncommon slivers
Armor Sliver
Mnemonic Sliver
Mindwhip Sliver
Barbed Sliver
Horned Sliver
Each of these uncommon 2/2 Sliver creatures costs M and grants an ability which activates for to all Slivers, including itself.
Cycle name
Gold allied-color spells
Sky Spirit
Lobotomy
Spontaneous Combustion
Segmented Wurm
Ranger en-Vec
Each of these uncommon spells, one for each allied two-color combination, has a mana cost that includes both of its colors.
Slow lands
Thalakos Lowlands
Rootwater Depths
Cinder Marsh
Mogg Hollows
Vec Townships
Each of these uncommon dual lands can be tapped for or one mana of two allied colors; if tapped for the latter, it doesn't untap during your next untap step.
Cycle name
Gold enemy-colored spells
Selenia, Dark Angel
Dracoplasm
Vhati il-Dal
Soltari Guerrillas
Wood Sage
Each of these rare spells, one for each enemy two-color combination, has a mana cost that includes both of its colors.
Enemy-color tap-pain lands
Salt Flats
Caldera Lake
Pine Barrens
Scabland
Skyshroud Forest
Each of these rare lands comes into play tapped and can be tapped for or one mana of two enemy colors; if tapped for the latter, it deals 1 damage to you.
Mega cycle
[
]
Mega-mega cycle
[
]
Pairs
[
]
Tempest has two mirrored pairs.
Matched Pair
Warmth ()
Havoc ()
Each of these uncommon enchantments costs M and rewards you or punishes an opponent, respectively, when another player casts a spell of the other's color.
Scalding Tongs ()
Thumbscrews ()
Each of these rare artifacts costs and deals damage to an opponent if you have a low or high number of cards in hand, respectively.
Theme decks
[
]
Tempest was the first set to be released with pre-constructed theme decks. The decks are:
Notable cards
[
]
Reprinted cards
[
]
The following cards have been reprinted from previous sets and included in Tempest.
Functional reprints
[
]
Tempest has five functional reprints:
Colorshifted
[
]
Tempest has one colorshifted card:
Trivia
[
]
Gallery
[
]
References
[
]
External links
[
]