Textless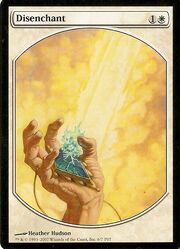 Textless refers to cards without any text and use the whole card frame for the artwork (i.e. missing a text box).[1]
The first series of textless cards was given out by the DCI as part of the Magic Player Rewards program.[2] All of these promotional cards are instants or sorceries.
Additionally the Un-sets and Zendikar feature textless basic lands and Future Sight has a cycle of textless vanilla creatures. These have been officially referred to as "full frame".[3] They shouldn't be confused with full-art cards, which do feature card text. The tokens from Unglued are completely textless as well. Textless cards returned in 2019 as MagicFest promos.
Textless spells are allowed in DCI-sanctioned Magic tournaments they are legal in.
List of promotional textless cards
[
edit
|
edit source
]