Tolaria West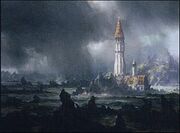 Tolaria West is a small island in the Dominarian archipelago of the Spice Isles.[1][2][3]
Tolaria West was named by scholars of magic who wanted to honor legendary Tolaria. They built a campus of the academy of their own, approximately 300 years after the Phyrexian Invasion. It seems to have reached the same fame as its predecessor.[4][5] The complex has similar white stone buildings and towers as the original Academy. The Academy at Tolaria West is just one of several campuses of the original.[6]
At some point of time, the island had to deal with incursions from the Talas.[7]
Sixty years after the Mending, the Academy at Tolaria West was infiltrated by a Cabal agent, who tried to steal a powerful magical device for his master and killed nine students in the process with his dementia magic.[8] He was apprehended by the Weatherlight crew, who were in need of information about the Cabal.
Represented in:
Associated cards:
Depicted in:
Referred to: