No Man's Sky Update - The Loop
Play Sound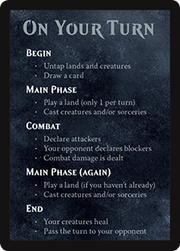 Magic: The Gathering is a turn-based game, where game flow is partitioned into well-defined parts. The active player contemplates and performs certain actions in a preordained order, then the next player does the same. This is opposed to "real-time" play as is found in some card games, most sports and most video games.
Description
[
]
A turn in a Magic game consists of five phases, in this order:
Each of these phases takes place every turn, even if nothing happens during the phase. The beginning, combat, and ending phases are further broken down into steps, which proceed in order. A phase or step in which players receive priority ends when the stack is empty and all players pass in succession.
General rules
[
]
Beginning phases and steps
[
]
When a phase or step begins, any abilities that trigger "at the beginning of" that phase or step are added to the stack in "Active Player, Non-Active Player" (APNAP) order. The active player (the player whose turn it is) puts the triggered abilities they control (if any) on the stack in any order they wish, then the non-active player does likewise for the triggered abilities (if any) they control. Priority then passes to the active player. As usual, every player then gets a chance to respond to these triggers with instants and instant-speed activated abilities when they have priority.
Ending phases and steps
[
]
When all players pass priority in succession and the stack is empty, a phase or step ends. Nothing happens between turns, phases or steps. Because a phase or step only ends when the stack is empty and all players pass priority, every player gets an opportunity to add new things to the stack before the current phase or step ends. Under the current rules (since Magic 2010), whenever a phase or step ends, all mana is emptied for all player's mana pools with no additional penalty.
Extra turns
[
]
Blue is the primary color to take extra turns ("Timewalking").[1] It usually does it at mythic rare. Red on rare occasion will do a "Time Walk" that comes with some big penalty — often losing the game at the end of the extra turn.
If an effect gives a player extra turns, it does this by adding the turns directly after the current turn.[2] If multiple extra turns are created or if multiple players get extra turns during a single turn, the extra turns are added one at a time. This is done in the regular Last-In-First-Out (LIFO) order.
Extra phases and steps
[
]
If effects add a phase to a turn, or steps to a phase they work the same way as with extra turns. An extra phase is added directly after a specified phase, and an extra step is added directly after or before a specified step. If multiple phases or steps are created after the same phase or step they resolve in LIFO order. If phases (or steps) are created after separate phases (or steps) they occur in the order they would normally occur in the turn structure. Extra combat phases are the most common thing to grant, as extra main or end steps grant no actions, with Sphinx of the Second Sun being unique in granting another beginning phase.
Skipping turns, phases and steps
[
]
Some effects can cause a turn, phase or step to be skipped. A turn, phase or step is skipped by proceeding past it as though it didn't exist. This means that any actions for any player that would normally happen during the turn, phase or step is skipped as well. The most common thing to skip is the draw step, added as a downside to card drawing engines.
Prematurely ending the turn
[
]
Six spells or effects can end the turn before it would end normally: Time Stop, Discontinuity, Glorious End, Sundial of the Infinite, Day's Undoing and Obeka, Brute Chronlogist. The latter three of them can't forcibly end an opponent's turn, while Glorious End results in the caster losing the game.
These have the additional utility of exiling the entire stack to remove problematic spells or abilities (especially those that can't be countered), or to skip downside effects that trigger at the beginning of a specific phase (e.g. not having to sacrifice token copies created by Feldon of the Third Path by skipping the end step).
Gaining control of target player's turn
[
]
While black is the color that can do it in the color pie[1], with Sorin Markov and Worst Fears, this effect was most well known on two colorless cards: Mindslaver and Emrakul, the Promised End.
Phase abilities (obsolete)
[
]
Some older cards used the phrase "during [phase], [action]." These abilities were called "phase abilities." In general, cards that were printed with phase abilities have received errata in the Oracle card reference so they have abilities that trigger at the beginning of a step or phase.
References
[
]
External links
[
]