Fire Emblem Warriors: Three Hopes - The Loop
Play Sound
Turtle

Creature Type
(Subtype for creature/tribal cards)
Statistics

29 cards

51.7% 6.9% 3.4% 20.7% 13.8% 3.4%

as of Commander Legends: Battle for Baldur's Gate
Scryfall Search
type:"Turtle"
Turtle is a blue/green creature type used for any reptile, either aquatic or terrestrial, with the trunk enclosed in a shell consisting of a dorsal carapace and a ventral plastron. A terrestrial turtle is also known as a tortoise.
History
[
]
The first creature card to bear the subtype Turtle was Giant Turtle in Legends, though Giant Tortoise from Arabian Nights was later issued errata in the Grand Creature Type Update to retroactively become a Turtle as well.
Commander Legends introduced the first turtle-folk with Archelos, Lagoon Mystic.[1]
Kappa
[
]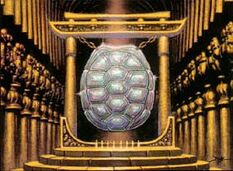 Kappa were mysterious, water-dwelling creatures that once had lived on Kamigawa, but have since become extinct. Little is known about them, but kappa resembled a cross between a goblin and a turtle, and probably looked similar to their relatives, the Akki (though they are typed as turtles instead of goblins). The Shell of the Last Kappa was a relic of considerable magical power and was kept at some location in a shrine.
At some point they have returned as a species, since they are present in Neon Dynasty.
Notable Turtles
[
]
Arcavios
Innistrad
Ikoria
Unknown
Trivia
[
]
Gallery
[
]
References
[
]