Raise a Floppa - The Loop
Play Sound
Unglued was the first Magic: The Gathering supplemental set to be used outside of normal Magic expansions.[2] It was released on August 11, 1998 as a standalone, fun set.[3][4][5][6]
Set details
[
]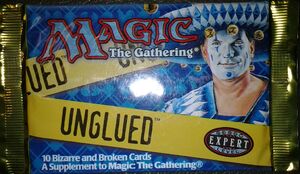 The set included 83 silver-bordered cards, five black-bordered cards (basic lands) and six tokens. The lands are special full-art lands which have extended artwork inside an oval frame stretching from the top to bottom of the card.[7] On top of that oval frame is a round gem of the appropriate color with the (at the time current) tap symbol. At the bottom is a slightly larger gem featuring the appropriate mana symbol. The top left corner has the name of the basic land while the bottom left corner simply reads "Land" with Artist and copyright information as well as collector number running along the bottom. Unlike other sets that feature up to four distinct arts per basic land, Unglued only has one art per basic land.
The rest of Unglued are silver-bordered joke cards which are still functional. Names, flavor texts, types and mechanics as well as the art featured on the card[8] parody the game, individual cards, concepts, the history or players of the game. Unglued and its followup Unhinged are also the only sets in which the artwork of non-Planeswalker cards extend outside the art frame. The card B.F.M. (Big Furry Monster) even extends over two cards. Some cards have specialized frames allowing for other jokes. Unglued also makes special mention of Chickens and Clamfolks as creature types. Chickens were a minor theme.[9]
Mechanics
[
]
While Unglued dabbles in all sorts of mechanics including physical actions by the players, specifically noted should be the usage of six-sided die on cards for random effects.
Many graphic design elements that first appeared in this "joke set" have crossed over into tournament-legal Magic releases. These include full-art basic lands, art extending beyond the frame (as seen later on many planeswalker cards), watermarks in the text box, and sideways printing (first seen in Burning Cinder Fury of Crimson Chaos Fire and later on split cards).
Cycles
[
]
Rock-Paper-Scissors
[
]
Rock-Paper-Scissors Cycle
Rock Lobster
Paper Tiger
Scissors Lizard
Three 4/3 common artifact creatures costing and illustrated by Heather Hudson, each corresponding to the game Rock, Paper, Scissors; when any was in play, it prevented the other appropriate creature from attacking or blocking. For instance, as long as Rock Lobster is in play, cards named Scissors Lizard cannot attack or block.
Creature types
[
]
Unglued creature types were eliminated from the Comprehensive Rules list during the Grand Creature Type Update. They included:
Trivia
[
]
Look at Me, I'm the DCI was drawn by Mark Rosewater after a picture of Richard Garfield.[13]

Rosewater received $1 for his artwork.[14]

Rosewater dressed up like a chicken for Unglued's prerelease.[15]
Phil Foglio used the pseudonym Claymore J. Flapdoodle.[14]
B.F.M. (Big Furry Monster) is wearing the former two largest creatures in Magic (Phyrexian Dreadnought and Polar Kraken) as jewelry. Its flavor text also references Polar Kraken's flavor text.[14]
The text box on Prismatic Wardrobe is pieces of all six nonland text boxes stitched together.[14]
The maze pictured on the desk in Bureaucracy has no solution.[14]
Rock Lobster walks on broken metal pieces. Scissors Lizard walks on scraps of paper and Paper Tiger walks on rocks.[14]
The Goblin Bowling Team is sponsored by Pashalik Mons.
Jack-in-the-Mox sports all five moxes.[14]
On Volrath's Motion Sensor, Greven il-Vec has Volrath's emblem printed on his pyjama's.[14]
A rejected image for Keeper of the Mind, which was considered to be misogynistic, was used for Unglued 's Censorship[16][17]
The model for the wizard in Mine, Mine, Mine! was Daniel Gelon.[14]
The model for Jalum Grifter was brand manager Joel L. Mick (J.L.M.).[14]
Chaos Confetti was designed by Jeff Donais, Pro Tour head judge.[14]
The creatures on Fowl Play were meant to be clamfolk, but nobody told this to Mark Poole.[14]
Gerrymandering was based on a spell called Ecoshift that Richard Garfield cut from Alpha.[14]
Temp of the Damned used the unused art for a card called Gypt the Gnarled that was considered for Visions.[14]
The full-art lands were thought up by Christopher Rush, several years earlier.
I'm Rubber, You're Glue had to be recommissioned. The original art was just an extension of Free-for-All. But the leprechaun was meant to be knocked into a total other card.[14]
The art of Infernal Spawn of Evil was created by Ron Spencer as a joke for a card in Tempest block.[18]
All 94 cards in the Unglued set each had a single word printed on the bottom of the card. When combined in proper numerical order with other cards in the series spell out the following secret message:
"Here are some cards that didn't make it to print: Socks of Garfield, Hot Monkey Love, Colonel's Secret Recipe, Squee's Play, Banned in France, Spoon, Disrobing Scepter, Butt Wolf, Lotus Roach, Sesame Efreet, Needless Reminder Text, Chicken Choker, Clockwork Doppelganger, Henway, HELP I'M TRAPPED IN CARTA MUNDI, Mad Cow, Poke, Lord of Wombats, Gratuitous Babe Art, Brothers' War Bonds, Dwarven Kickboxer, Mickey's Drunk, Pact with the Wastes, CoP:BO, Urza's Chia Pet, Thallid Shooter, Shoelace, When Chihuahuas Attack, Wall of Cookies, Kobold Ninja, Mucusaur, Kjeldoran Outhouse, Bear in the Woods, Dental Thrull, Flavatog, Cereal Killer."[19]
Inspirations
[
]
The following list is every Unglued card that inspired a black-bordered card or mechanic.[27]
Unglued 2

[

]
A follow up set, tentatively called Wacky II: This Time it's Personal or Unglued 2: The Obligatory Sequel, was announced for Summer 1999 but never got made. This was an entirely different set from Unhinged and featured animated vegetables, punny Djinni, Santawar Elves, and an alternate take on Serra Angel.
Gatherer update
[
]
After the release of Unstable in December 2017, the other Un-sets received a Gatherer update.
References
[
]
External links
[
]