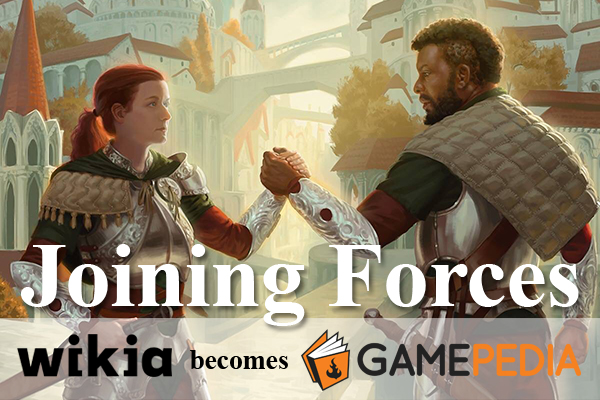 Dear viewers, dear contributors,
as some of you might have heard in December 2018 Fandom aquired Curse Media/Gamepedia. Not long after that announcement we sat together with our comrades running the Magic: The Gathering Wiki on Gamepedia and discussed how we wanted to continue with both wikis. It quickly came down to two core points:
Does it make sense to have two wikis basically covering the same topic?
In case we would come to an agreement which one of the wikis would be the most suitable?
Answering the first question was quite simple: our highest priority always was to provide our viewers content of the highest possible quality. While competition is generally a good thing, we now were somewhat in the same boat. So instead of having two small teams working on the same topic, putting out the same info, it made more sense to us to have one dedicated team collaborating to reach our goals.
The second question was much harder to answer. Both projects could look back on decades of service, thousands of edits, countless hours of effort and love we had put into them. Each wiki-structure has his advantages and unique features. Giving up something you have known and loved for years is tough — exceptionally tough if you consider it more than a hobby. Finally though, we all saw the future of a united Magic wiki in Gamepedia. While the Fandom wiki was always struggling to congregate a team of long-term editors to catch up to the lastest content, Gamepedia clearly had their stuff figured out and used advanced technologies we (the Fandom wikians) hadn't even touched or thought about yet.
For you, the viewers, in a nutshell this means: over the coming weeks and months the Fandom wiki will merge with Gamepedia. This of course is a process and requires quite a bit of work. So, let me invite you to join us to create the best resource for Magic: The Gathering — the game we all love. The Gamepedia wiki can be found here and we additionally set up a discord server. Admins, mods and staff from both Fandom and Gamepedia are already there looking forward to your ideas and suggestions.
"Every journey has its inevitable end but every end is a new beginning."
(Journey to Eternity // Atzal, Cave of Eternity)
Holy
on behalf of the Fandom admins and mods
Community content is available under
CC-BY-SA
unless otherwise noted.