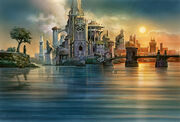 Vesuva is an island on Dominaria. It is located to the direct west of Walassa in the Orvada Empire, and east of Shanodin.[1]
Vesuva is the home of shapeshifters. It is also a region full of magical illusions, some of them capable of producing murderous doppelgangers of anyone visiting.[2] The former glory of Vesuva is now lost, after the temporal catastrophe which wrecked much of Dominaria: however, the reflection in the water stills shows an undamaged Vesuva.[3]
Vesuva, probably rebuilt after the Rift Era, is now ruled by a queen:[4] the legendary Helm of the Host was made out of Rathi flowstones specially for her.
In-game references
[
]
Represented in:
Associated cards:
Quoted or referred to:
References
[
]