Fire Emblem Warriors: Three Hopes - The Loop
Play Sound
War of the Spark

Set Information
Set symbol
Symbol description
Bolas's horns over the planeswalker symbol
Design
Mark Rosewater (lead)[1]
Peter Lee
Dave Humpherys
James Wyatt
Jackie Lee
Ken Nagle
Development
Dave Humpherys (lead)
Ian Duke
Andrew Brown
Ken Nagle
Jules Robins
Yoni Skolnik
Gavin Verhey
Art direction
Dawn Murin
Taylor Ingvarsson
Release date
May 3, 2019
Themes and mechanics
Planeswalkers, colored artifacts, hybrid mana, Vehicles
Keywords/​ability words
Amass, Proliferate, Affinity for artifacts, Crew
Set size
264 cards
(101 commons, 80 uncommons, 53 rares, 15 mythic rares, 15 basic lands)
+10 Planeswalker deck exclusives
+1 Buy-a-Box promo
Expansion code
WAR[2]
Development codename
Milk
Core Set 2020 Standard
Magic: The Gathering Chronology
War of the Spark is the 81st Magic expansion. It was released on May 3, 2019.[3][4][5] Officially, it is not part of a block. However, it is part of a series of three consecutive sets on the same world, unofficially referred to as the Guilds of Ravnica block.[6] It covers the event of the same name.
Set details
[
]
War of the Spark contains 264 cards (15 basic lands, 101 commons, 80 uncommons, 53 rares, 15 mythic rares), and includes randomly inserted premium versions of all these cards. Ten additional cards are found in the set's planeswalker decks (2 mythic planeswalkers, 2 rares, 2 uncommons, 2 commons, and 2 common Guildgates). These are numbered #265/264 to #274/264. A unique Buy-a-Box promotional card numbered #275/264 is also considered to be part of the set. While all previous sets on Ravnica focused on the ten Ravnican guilds, this set focuses on the culmination of the Bolas Arc simply using the world as a backdrop.[7][8][9] Mark Rosewater calls it an "event set", meaning it is built around an event rather than the plane.[10][11] As a special feature, the set features a total of 36 planeswalkers cards (39 including the Buy-a-Box promo + 2 in the planeswalker decks.[12][13][14] Each booster pack contains a planeswalker card,[13] and all planeswalkers are new cards (no reprints).[15]
The set is accompanied by the first major paper Magic novel after an eight-year break.[16]
Storyline
[
]
| | | |
| --- | --- | --- |
| "  | Be there when it ends. |  " |
The storyline and set revolves around the fight between the Gatewatch and Nicol Bolas. The fight turns into an all-out planeswalker war. Dozens of powerful planeswalkers, from many disparate realities, unite against the elder dragon, who has claimed dominion over Ravnica and is perilously close to completing the Elderspell that harvests sparks and will grant him "ultimate power" and godhood. As they fight alongside the Gatewatch—led by Chandra Nalaar, Jace Beleren, and Gideon Jura—against Bolas and his relentless army of Eternals, nothing less than the fate of the multiverse is at stake.[17] Little do the Gatewatch suspect that Bolas has not only accounted for their interference, but he is practically relying on it.[18]
The cards that represent the Story Spotlights in War of the Spark are:
Act 1: Ignite the Beacon, No Escape, Emergence Zone, Dreadhorde Invasion, Ravnica at War and God-Pharaoh's Statue
Act 2: Pledge of Unity, Rally of Wings, Awakening of Vitu-Ghazi, Topple the Statue, Enter the God-Eternals, Spark Harvest, The Elderspell, and Deliver Unto Evil
Magic Story
[
]
In addition to the novel and its sequel (both by Greg Weisman) and the prequel by Django Wexler, part of the story appeared in six Magic Story chapters written by Greg Weisman.[19] Like the books, these were published after the set had been released.
| Title | Author | Release Date | Setting | Featuring |
| --- | --- | --- | --- | --- |
| War of the Spark: Ravnica—Old Friends and New | Greg Weisman | 2019-05-08 | Ravnica | Rat, Hekara, Teyo Verada, Kaya, Ral Zarek, and many others. |
| War of the Spark: Ravnica—The Path to Opulent | Greg Weisman | 2019-05-15 | Ravnica | Rat, Teyo Verada, Kaya, Domri Rade and many others. |
| War of the Spark: Ravnica—Rallying the Reluctant | Greg Weisman | 2019-05-22 | Ravnica | Rat, Teyo Verada, Kaya, Jace Beleren, Gideon Jura and many others. |
| War of the Spark: Ravnica—Desperate Operatives | Greg Weisman | 2019-05-29 | Ravnica | Rat, Teyo Verada, Kaya, Ral Zarek, Trostani, Borborygmos, Vraska and many others. |
| War of the Spark: Ravnica—Operation Desperation | Greg Weisman | 2019-06-05 | Ravnica | Rat, Teyo Verada, Kaya, Ral Zarek, Vraska, Rakdos, Exava, Tomik Vrona and Hekara. |
| War of the Spark: Ravnica—Ashes | Greg Weisman | 2019-06-12 | Ravnica | Rat, Teyo Verada, Gatewatch, Dack Fayden, Liliana Vess, Vraska, Ral Zarek, Niv-Mizzet, Vorel and many others. |
Basic land panorama
[
]
The following basic lands form a panorama in that order: Mountain (#261), Plains (#252), Swamp (#258), Island (#254), and Forest (#264).
Marketing
[
]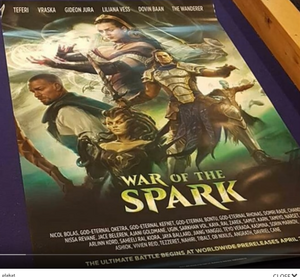 War of the Spark is sold in regular 16-card boosters (one card being a marketing card and another one being a planeswalker), single color theme boosters[20], two planeswalker decks, and the War of the Spark bundle. The planeswalker theme of the set was revealed in a teaser that featured the art of the 36 planeswalker cards with an added stained-glass effect.[21][22] The boosters feature art from Liliana and Gideon (both from the set's key art), and from Teferi, Time Raveler.[23]
Each paper booster pack contains a planeswalker. This doesn't apply to 8-card "Arena packs" on MTGA.[24]
Preview season told a story in "scenes". All cards previewed on a single day had a connection to a story point, an event, or a key location in roughly chronological order.[25]
Events
[
]
Promotional cards
[
]
Japanese alternate art
[
]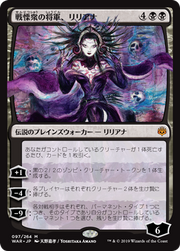 All 36 planeswalker have a 50% chance that the regular artwork of the planeswalker card will be replaced by an anime-style alternate art card in Japanese-language War of the Spark boosters only. The Japanese boosters were made available to retailers around the world.[32]
These cards were also available in WPN promo packs during the Core Set 2020 play season, appearing in roughly 1:4 of packs. The alternate-art planeswalkers have only been printed in Japanese, but will appear in promo packs around the world.[32]
Tokens and emblems
[
]
The sixteenth card in the boosters is a token creature card or an emblem, with advertisements on the back side. There are a total of nineteen tokens and emblems:[33][34]
2/2 Spirit creature for Ugin, the Ineffable
4/4 Angel creature with flying and vigilance for Finale of Glory and Parhelion II
2/2 Soldier creature with vigilance for Finale of Glory
0/3 Wall creature with defender for Teyo, the Shieldmage
2/2 Wizard creature for Kasmina, Enigmatic Mentor
1/1 Assassin creature with deathtouch and "Whenever this creature deals damage to a planeswalker, destroy that planeswalker" for Vraska, Swarm's Eminence
2/2 Zombie creature for Liliana, Dreadhorde General
0/0 Zombie Army creature (2 of 3)
0/0 Zombie Army creature (3 of 3)
4/4 Zombie Warrior creature with vigilance for God-Eternal Oketra
1/1 Devil creature with "When this creature dies, it deals 1 damage to any target" for Tibalt, Rakish Instigator
4/4 Dragon creature with flying for Sarkhan the Masterless
1/1 Goblin creature for Krenko, Tin Street Kingpin
2/2 Wolf creature for Arlinn, Voice of the Pack
2/2 Citizen creature that is all colors for Planewide Celebration
3/3 legendary Wolf creature named Voja, Friend to Elves for Tolsimir, Friend to Wolves
Mythic Edition
[
]
War of the Spark Mythic Edition is a special draft-sized booster box. It contains eight masterpieces.
Themes and mechanics
[
]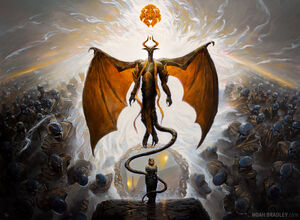 The main theme of the set is planeswalkers and cards that interact with them.[35][36][37] Apart from the usual mythic rare planeswalkers, the set also features rare and uncommon planeswalkers. All of the thirty-six planeswalkers in the main set have a static or triggered ability. The 20 uncommon ones have an additional minus loyalty ability (no plus abilities).[38] The 13 rares have additional plus and minus loyalty abilities. The 4 mythic rares have three additional abilities.[39] The four mythic rare planeswalkers are the two main protagonists of the story (Liliana and Gideon), the main antagonist (Bolas), and a secondary antagonist (Tezzeret).[40] Some two-color planeswalkers show up as monocolor planeswalkers in their base color.[41] Every planeswalker has a least one signature card that represents a spell they would cast. They're all named with the possessive,[42][37] except for Jiang Yanggu, whose signature spell is his companion Mowu, Loyal Companion.
The keyword action Proliferate from the Scars of Mirrodin block sees a return.[43][36] When a player proliferates, he or she chooses any number of players and/or permanents with a counter on them, then puts another of those counters on these players or permanents. However, a rules change has been implemented.[36] Formerly, you had to choose a type of counter already present and added one counter of that type, now you are adding one counter of each type already present.[44]
A new mechanic is Amass. "Amass N" means put N +1/+1 counters on an Army creature you control.[45] If you don't control one, create a 0/0 black Zombie Army creature token first.[36] It appears in



because it is flavorfully connected to Bolas's army.[46]
Crew returns, on the first-ever colored Vehicles.
Affinity for artifacts, last seen in the Mirrodin block, appears as a one-off on Tezzeret, Master of the Bridge. It reduces the mana cost of a spell by the number of artifacts that player controls.[47]
There is a small tribal theme for zombies. Some notable creature cards give bonuses to zombie tokens, depicted as members of the Dreadhorde.(Eternal Skylord, Vizier of the Scorpion, Dreadhorde Twins and Gleaming Overseer).
War of the Spark features the following limited archetypes:[48]
Card types
[
]
War of the Spark introduces the Army creature type. The Army functions together much like how R&D makes single creature cards that are flavored as a group of beings.[46]
The set also introduces the Davriel, Kasmina, and Teyo planeswalker types. The Wanderer lacks a planeswalker type.
Cycles
[
]
War of the Spark has eleven cycles.
Monocolored cycles
[
]
Cycle name
Uncommon planeswalkers
Teyo, the Shieldmage
Kasmina, Enigmatic Mentor
Davriel, Rogue Shadowmage
Jaya, Venerated Firemage
Arlinn, Voice of the Pack
The Wanderer
Narset, Parter of Veils
Ob Nixilis, the Hate-Twisted
Tibalt, Rakish Instigator
Jiang Yanggu, Wildcrafter
Ten monocolored uncommon planeswalkers, two for each color.
The Gatewatch
Gideon Blackblade
Jace, Wielder of Mysteries
Liliana, Dreadhorde General
Chandra, Fire Artisan
Nissa, Who Shakes the World
Five rare and mythic planeswalkers representing the original Gatewatch members. Each one has an "ultimate" loyalty ability, or one that cannot be activated immediately.
Triumphs
Gideon's Triumph
Jace's Triumph
Liliana's Triumph
Chandra's Triumph
Nissa's Triumph
Five uncommon spells, each enhanced if you control a planeswalker of the respective type. They each depict a member of the Gatewatch and are a direct reflection of the "Defeats" from Hour of Devastation. Each has art by Kieran Yanner, who also illustrated the Defeats.
Gods
God-Eternal Oketra
God-Eternal Kefnet
God-Eternal Bontu
Ilharg, the Raze-Boar
God-Eternal Rhonas
Five mythic gods, four invading eternalized gods from Amonkhet and one native to Ravnica.
Finales
Finale of Glory
Finale of Revelation
Finale of Eternity
Finale of Promise
Finale of Devastation
Five mythic monocolored sorceries, that each get a bonus effect when X ≥ 10. The names reflect the Accounting of Hours from Amonkhet.
Colored artifacts
Parhelion II
Silent Submersible
Bolas's Citadel
Mizzium Tank
Vivien's Arkbow
Five rare colored artifacts.
Legendary natives
Tomik, Distinguished Advokist
Fblthp, the Lost
Massacre Girl
Krenko, Tin Street Kingpin
Awakening of Vitu-Ghazi
Five rare monocolor spells that represent important figures in Ravnica: four legendary creatures, and one instant that turns a land into a legendary creature.
Bonds
Bond of Discipline
(/)
Bond of Insight
(/)
Bond of Revival
(/)
Bond of Passion
(/)
Bond of Flourishing
(/)
Five uncommon monocolored sorceries, that each represent a pairing of two guilds sharing the card's color, forming shards.
Multicolored cycles
[
]
Cycle name
Hybrid planeswalkers
Dovin, Hand of Control
Ashiok, Dream Render
Angrath, Captain of Chaos
Samut, Tyrant Smasher
Huatli, the Sun's Heart
Kaya, Bane of the Dead
Saheeli, Sublime Artificer
Vraska, Swarm's Eminence
Nahiri, Storm of Stone
Kiora, Behemoth Beckoner
Ten uncommon planeswalkers, who each have hybrid mana in their mana costs.
Gold creatures
Elite Guardmage
Gleaming Overseer
Mayhem Devil
Rubblebelt Rioters
Huatli's Raptor
Cruel Celebrant
Invade the City
Leyline Prowler
Tenth District Legionnaire
Merfolk Skydiver
Ten uncommon gold creature spells (or in one case, a noncreature spell with amass). Each is a signpost for a draft archetype.
Gold noncreatures
Dovin's Veto
Tyrant's Scorn
Angrath's Rampage
Domri's Ambush
Pledge of Unity
Despark
Ral's Outburst
Deathsprout
Heartwarming Redemption
Neoform
Ten uncommon gold noncreature spells, each of which is a generically powerful spell that encourages drafting in its colors.
Pairs
[
]
War of the Spark has (at least) two mirrored pairs.
Reprinted cards
[
]
Functional reprints
[
]
Banned and Restricted cards
[
]
Trivia
[
]
Card comparisons
[
]
Preconstructed decks
[
]
War of the Spark features two planeswalker decks:
Stained-glass gallery
[
]
References
[
]
External links
[
]