GTA: The Criminal Enterprises - The Loop
Play Sound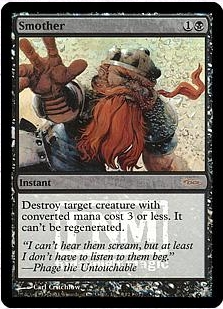 A watermark is a faint imprint made into the text box area of certain Magic cards. In Contraptions, they are placed in the bottom right-hand corner.
History
[
]
The first card to bear a watermark was Incoming! from Unglued.
Events
[
]
Prerelease cards bear their expansion symbol as a watermark since Onslaught's Silent Specter, similarly release cards bear their set symbol or logo. Other event cards not specific to a set bear the logo of that event, such as Friday Night Magic promo cards.
Affiliations
[
]
Some cards in the Ravnica block were given watermarks showing the guild from which they came.[1] The Ravnican watermarks were used again in the later Ravnica sets.
In the Scars of Mirrodin block every single card that was not a basic land or a planeswalker bore the watermark of one of the two warring factions: Phyrexians and Mirrans.[2]
Khans of Tarkir uses watermarks for the different clans, with Fate Reforged adding watermarks for the different dragons' broods.
Strixhaven: School of Mages uses watermarks for the different colleges within the school.
Watermarks were also used for the factions of Unstable.[3]
Affiliation watermarks are searchable in Gatherer and Scryfall.[4]
Mechanics
[
]
Foretell from Kaldheim was the first mechanic with an associated watermark (a raven).[5]
Watermark matters
[
]
Unstable has a small "watermark matters" theme with Hammerfest Boomtacular, Stamp of Approval and Watermarket.[6] In this set, the faction marks found in the bottom right corner of Contraptions also count as watermarks.[7][8][9]
References
[
]