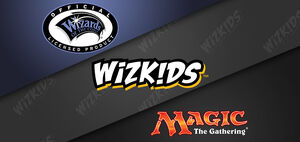 WizKids is an American company based in New Jersey that made its mark in the game industry producing collectible miniatures wargames. WizKids was purchased by and is a subsidiary of National Entertainment Collectibles Association. It advertises as the leader in high-quality pre-painted miniatures and established board games.
Products
[
]
WizKids produces both licensed and first-party games. Many of the games WizKids utilize include patented elements like the Combat Dial System. WizKids produces both physical items, like HeroClix, as well as digital transliterations, like Quarriors! for IOS.
WizKids is best known for its collectible miniatures games (or CMGs) Mage Knight, HeroClix, MechWarrior and HorrorClix, all of which made use of the company's Clix system, in which the changing combat statistics and abilities of each figure are indicated by a turnable dial inside the base underneath the figure.
In July 2004, WizKids created a new product category with the release of their first constructible strategy game (or CSG), Pirates Constructible Strategy Game, featuring miniature ships assembled from pieces punched out of styrene cards. In 2005, WizKids released their first collectible card game, High Stakes Drifter, which was discontinued after its initial set. In May 2006, they released their second CCG, a licensed Battlestar Galactica Collectable Card Game. WizKids in 2005 also entered the board game market with a.o. Pirates: Quest For Davy Jones' Gold.
Magic: the Gathering
[
]
On November 14, 2017, WizKids revealed plans for an upcoming miniatures line and board game featuring Magic: The Gathering.[1] This new IP extended WizKids' existing licensing partnership with Wizards of the Coast, which already included Dungeons & Dragons.
Miniatures
[
]
The initial pre-painted sculpted miniatures, released in September 2018, focus on token creature card favorites, "adding a premium touch to the player's table top experience".[1]
The same year this was followed up by a D&D crossover, focusing on the Ravnican guilds.
In 2020, WizKids started adding Magic figure to their Deep Cuts miniatures line.
Board game
[
]
The board game Heroes of Dominaria, released in August 2018, pulls from the original lore.[1] Players play as Planeswalkers, exploring the landscape of Dominaria as they establish connections to their mana sources, gathering power before their opponents do and building their hand of spell cards.
References
[
]