GTA: The Criminal Enterprises - The Loop
Play Sound
Wizards of the Coast (often referred to as WotC or simply Wizards) is an American publisher of games, primarily based on fantasy and science fiction themes. Originally a basement-run role-playing game publisher, they popularized the collectible card game genre with Magic: The Gathering in the mid-1990s. Today they publish board games, collectible card games and role-playing games. Currently they are a division of Hasbro.
History
[
]
Founding
[
]
Wizards of the Coast was founded by Peter Adkison and four friends in 1990 just outside of Seattle, Washington, and their headquarters is still in the nearby city of Renton.[1][2] Original founders were also Rich Kaalaas, who made Wizards of the Coast's first logo, Jay Hayes, Ken McGlothlen and Steve Conard. When the company first started, it was located in Adkison's basement, and everybody still had a day job.[3] Originally the company only published role-playing games such as the third edition of Talislanta and their own The Primal Order. The release of The Primal Order brought legal trouble with Palladium Books suing for references to their game and system.[4] The suit was settled in 1993 by Wizards paying an undisclosed sum to Palladium and agreeing not to mention their products again.[5]
However, it made its indelible mark when at Gen Con in August 1993 when the company debuted Richard Garfield's trading card game Magic: The Gathering [6] under the shell company Garfield Games to shelter it from the legal battle with Palladium. The success of Magic generated revenue that carried the company out of the original basement headquarters and into its own offices.
Expanding
[
]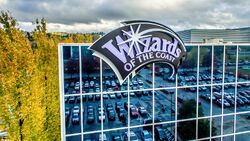 In 1994, they expanded their role-playing game line by buying SLA Industries from Nightfall Games and Ars Magica from White Wolf, Inc. In 1995 they released Everway and then closed their roleplaying game product line with Peter Adkison explaining that they were doing a disservice to the games with lack of support and had lost money on all of their roleplaying game products.[5][7][8]
In 1997, Wizards of the Coast was granted U.S. Patent 5662332 on trading card games,[5] followed by the purchase of TSR, Inc., the cash-strapped makers of Dungeons & Dragons. Many of the creative and professional staff of TSR relocated from Wisconsin to the Renton area, and Wizards re-hired many game designers who had been laid off during the troubled last years of TSR. TSR was used as a brand name for a while, then retired. Wizards of the Coast allowed the TSR trademarks to expire. The game and toy giant Hasbro bought Wizards of the Coast in September 1999. Between 1997 and 1999, they spun off several well-loved but poorly-selling campaign settings (most notably Planescape, Dark Sun and Spelljammer) to fan groups, focusing their business primarily on the profitable Greyhawk and Forgotten Realms lines.
In July 1997, Wizards of the Coast also acquired Five Rings Publishing.
In 1998, Wizard of the Coast introduced "The ARC System", a TCG system developed for new players. WoTC produced three games using the ARC system, and each of them was compatible with the others: C-23, Hercules: The Legendary Journeys and Xena: Warrior Princess.
In July 1998, Wizards also published Earthquake and Instinct, independent card games that that feature Magic artwork.[9][10]
From 1999 on, Wizards of the Coast published the highly successful Pokémon Trading Card Game for a number of years before Nintendo took back control.
In the same year, WotC acquired The Game Keep, Inc., one of the largest retail games chains in the United Stats. The following years, they ran their chain of gaming retail stores under the names "The Game Keeper" and "Wizards of the Coast," including their flagship gaming center on the Ave in Seattle.[11] The gaming center was closed by March of 2001 [4] and eventually Wizards announced in December 2003 that it would close all stores in order to concentrate on game design. The stores were closed in the spring of 2004.
Hasbro subsidiary
[
]
The game and toy giant Hasbro bought Wizards of the Coast in September 1999, for about US$325 million.[12] In January 2001 Peter Adkison resigned and Hasbro incorporated the company fully into its games division.[13]
Scandal and lawsuit
[
]
In 2002 Wizards was rocked by a scandal concerning improper purchasing practices and the falsifying of expense reports, which led to the firing of a Senior Vice President. CEO Vince Caluori was replaced Chuck Huebner.[14] In April 2004, Huebner in turn was replaced as CEO by Loren Greenwood
In October 2005 the company moved from its old headquarters (1801 Lind Ave SW) in Renton, Washington to new offices located across the street (1600 Lind Ave. SW).
In early 2006, Wizards of the Coast filed a lawsuit against Daron Rutter, an operator of the MTG Salvation website.[15] The lawsuit accused Rutter of engaging in copyright infringement, contributory copyright infringement, trade secret violation, unjust enrichment, and breach of contract. The charges stemmed from Rutter publicly posting confidential prototypes for upcoming Magic: The Gathering card sets to his website. Wizards of the Coast attempted to obtain summary judgment.[16] The case was settled out of court, and the terms of the settlement have been sealed.[17]
Quiet waters
[
]
Loren Greenwood left the company as CEO on March 21, 2008 and was succeeded by Greg Leeds.[18][19]
As of April 11, 2016 Chris Cocks replaced Greg Leeds as president and CEO of Wizards of the Coast.[20]
Esports and tabletop
[
]
After the successful introduction of MTG Arena in 2018, Wizards of the Coast and Hasbro debuted Magic esports in 2019 and started to refer to the original paper game as "tabletop Magic".[21]
Simultaneously, Wizards of the Coast went through a reorganization. They shifted to what is known as a studio model, where teams are built around supporting a particular product. The section known as R&D along with a few other sections of the company (including art, design, and production) were combined to become the studio for tabletop Magic.[22] There are different studios associated with other aspects of Magic, such as Digital Games and Franchise.
The concept of Magic esports was abandoned after a disappointing three years.[23]
Racism concerns
[
]
In June 2020, in reaction to the Black Lives Matter movement, Wizards of the Coast removed seven Magic cards from Gatherer's card database and banned them from sanctioned tournament play, because of racism concerns.[24] This came at a time when Wizards received increasing criticism for being an extremely white male company.[25]
Another lawsuit
[
]
In October 2020, Margaret Weis and Tracy Hickman filed suit against Wizards of the Coast for breaching a licensing deal with Weis and Hickman for a new Dragonlance novel trilogy.[26] According to the lawsuit, Weis and Hickman agreed with Wizards of the Coast to produce the new novels in 2017, capping off the series and giving fans a final sendoff. But the company pulled the plug in August 2020.
Hasbro division
[
]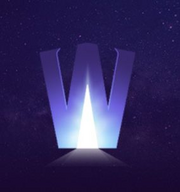 After being run as a subsidiary (a separate legal entity) for 22 years, Wizards of the Coast was announced to become one of three new divisions of Hasbro in February 2021.[27] A new logo and a refreshed website marked its new status. The new division will continue to make Wizards' existing games, like Magic: the Gathering and Dungeons and Dragons, lead an "aggressive digital transformation" of those games, and license Hasbro's gaming IP for other digital products. The transition of Wizards into a division of Hasbro came after Wizards booked a record-setting 2020, in which they generated $816 million in revenue.
Free the Wizards
[
]
In February 2022, Alta Fox, a significant shareholder of Hasbro, urged the company to split off Wizards of the Coast to the benefit of both entities. They nominated five candidates, a.o. Jon Finkel, to the Board of Directors.[28][29] Alta Fox contended that Hasbro's peers showed much more focus on shareholder returns, both in their communication with investors and underlying compensation structures. They also provided examples of Hasbro/WotC doing a poor job managing Magic as an asset, such as waning support of competitive Magic, problems with Magic: The Gathering Arena as a product and the misguided development of Alchemy as a format.
In April 2022, Hasbro rejected both the proposal and the nominees.[30][31]
Studio system
[
]
Since 2019, the teams of Wizards of the Coast are built around products rather than services.[32]
Studio X is dedicated to tabletop play. This includes Duel Masters R&D, Magic Creative, Magic Design, Magic Product Management and Magic R&D.
The Dungeons & Dragons studio.
The Digital Game Studio is dedicated to MTG Arena and digital Dungeons & Dragons.
Tuque Games, a studio dedicated to Magic video games.[33]
Archetype Entertainment, a studio focusing on story-driven RPGs.[34]
A Kids Studio.[35]
Franchise, Marketing & Esports
The New Raleigh-Durham Studio, another studio dedicated to creating video games based on Hasbro properties.[36]
NextGen Studio, developing new IP's.
Atomic Arcade, a video game development studio located in the Raleigh-Durham, North Carolina area. Working on GI Joe-games.[37]
Skeleton Key, yet another studio dedicated to creating video games.[38]
See also
[
]
Gallery
[
]
References
[
]
External links
[
]
History
[
]
Inside Wizards
[
]
Official policies
[
]