Zendikar Rising/Welcome booster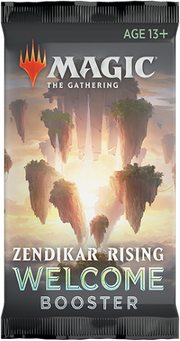 The Zendikar Rising Welcome Boosters are samplers, given away for free to new players to show off the coolest aspects of the game.[1][2]
Each Zendikar Rising Welcome Booster is exactly the same and contains a little slice of what makes Magic awesome. Just like last time, they have legends, planeswalker cards, showcase cards, and more. They also contain double-sided helper cards with tips on how to get started, find stores, and learn a lot more about the game. Plus, these boosters also contain a code for the "Critter Corps" deck, redeemable in Magic: The Gathering Arena.